Remine is the business solution that connects you with your clients and streamlines your workflow — all within one mobile-friendly platform.
MARIS recently announced the decision to upgrade all members from the Remine Starter plan to Remine Pro on November 1, 2019. Remine provides all of the essential MLS functions that REALTORS® need to do business — outside of listing add/edit. This MARIS member benefit, valued at $199/mo, comes at no additional cost to our members!
The Remine app also provides the convenience and flexibility to access data and stay connected, no matter where you are.
General Remine Platform Updates
Since being founded three years ago, Remine has continued to push the envelope by providing innovative technology for REALTORS®. Recently, they made another round of improvements to its user interface based on suggestions from members and MLS partners. A few key functions were also renamed; Discover is now Search and Track is now Carts. On the Remine Mobile app, you can now create CMAs while on-the-go.
If you haven't accessed Remine recently, we recommend that you take a moment to familiarize yourself with the updated interface — this way, you'll be all set to learn about the exciting features in Remine Pro!
Access Remine on your desktop or download the app from the App Store or Google Play.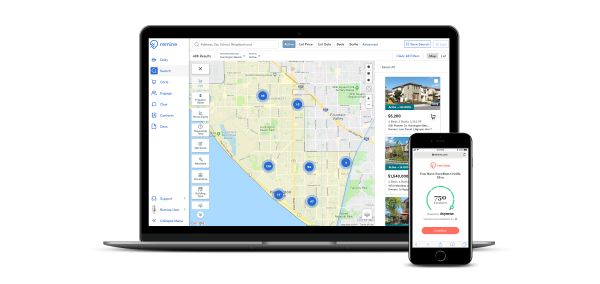 Overview of Remine Pro Features
Remine Pro is your one-stop shop for property searches, finding target markets for prospecting, CMAs, contact and data management, and more! You'll soon have access to the new features below on desktop and mobile:
Advanced Search: Nationwide search is available and is powered by MLS and public record data. You can also add custom MLS filters and view results in map or list view.
Additional Map Layers: Pro map layers include flood zone, distressed deals, home equity, absentee and property valuation. Overlay one or more layers to narrow your search or find a niche target!
Off MLS Data: You'll have the ability to see closed Off MLS listing in search and CMAs.
Contact Information: Contact information for individuals associated with closed or off market properties is $3/each under the Starter plan, but with Pro, you'll have access to all this data for no additional cost! This includes email, phone numbers (with Do Not Call indicators where applicable) and Buy Score. You also have the ability to add individuals directly to your contacts.
Share Carts (formerly Track): Carts is a centralized location for you to manage saved properties. With Pro, you'll have the added ability to share properties with your contacts.
Client Engage: Engage is a simple CRM that provides you with real-time client feedback on properties you've shared with them. You'll be able to engage with clients through the sleek, easy-to-use consumer website and app.
StepOne: This feature allows you to offer clients a free Equifax credit report. The soft inquiry uses a mobile number for verification and will not impact the client's credit score. Agents will not be able to see their client's credit score, but will be provided with a rating of where their credit stands. You'll also have the peace of mind knowing your clients are who they say they are, especially when meeting in person.
Docs: Upload, e-sign, send and organize all your documents right from within Remine!
Educational Opportunities
We know that transitions can sometimes be overwhelming, but we're here to help! Remine and MARIS will be co-hosting classes in various regions so we can introduce our members to all the features and benefits Remine Pro has to offer. Webinars will also be available throughout the month of November. Space is limited, so sign up today!