RPR® recently added Qualified Opportunity Zones to its map interface. This addition is aimed to help investors easily identify areas that fall within the 8,700 Opportunity Zones throughout the U.S.
The Opportunity Zone program was created as part of the 2017 Tax Cuts and Jobs Act, and was designed to encourage investment and development in economically-distressed communities. Opportunity Zones are selected by state governors and confirmed by the U.S. Department of Treasury. The government hopes to rebuild and strengthen local communities by incentivizing investors with tax benefits if they invest in these areas. View Opportunity Zone FAQs on the IRS website to learn more.
How to Get Started
Start by entering a search for a geographic area, such as a city or zip code. On the results page, toggle to the map view. Located above the map are dropdown menus for various map tools. Click the one labeled "Show geographies" and select Opportunity Zones from the list.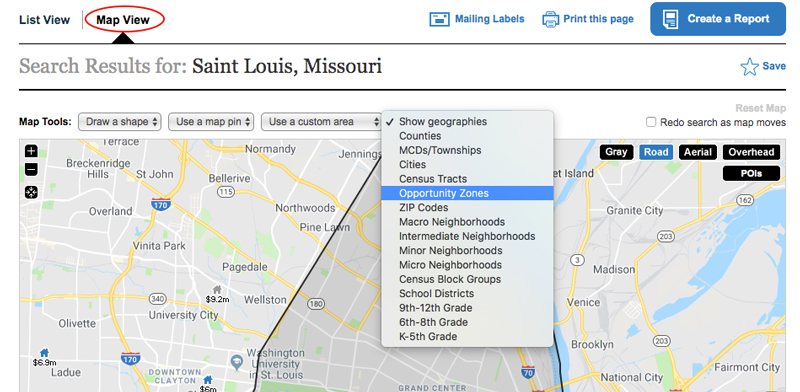 Census Tract boundaries will display on the map and the Opportunity Zones are shaded in a peach color. Click on one or more Opportunity Zones and choose "Search in This Geography" near the top right corner of the map (this option changes to "Search in These Geographies" if multiple areas are selected). Properties within the selected Opportunity Zone(s) will display on the map and in the results list below the map.

Once you have the desired results, you can create Mailing Labels directly in RPR®! We recently published an article about this newer feature on our blog: Direct Mail Marketing Made Easier in RPR®.