Since the initial publish date of 5-24-21, a clarifying note has been added in section 2. Additionally, a new video has been added to this article. Watch below:


Listings in Coming Soon status as of June 15th, 2021:
Due to an overwhelming amount of member feedback, the MARIS Board of Directors has approved a measure that will officially return Coming Soon to a non-showable status on June 15th, 2021. Moving forward, this status will be meant solely for short term use in order to prepare a listing for Active status in the amount of 21 days or less.
What does this mean for listings that will be within the 21-day window of Coming Soon status? All listings entered into the MLS in Coming Soon status with showings turned ON will automatically convert to Active status on June 15th. Coming Soon listings entered into the MLS with showings turned OFF will be able to complete their 21 days in the Coming Soon status. The flow chart below offers a more visual representation of your Coming Soon listing's active date.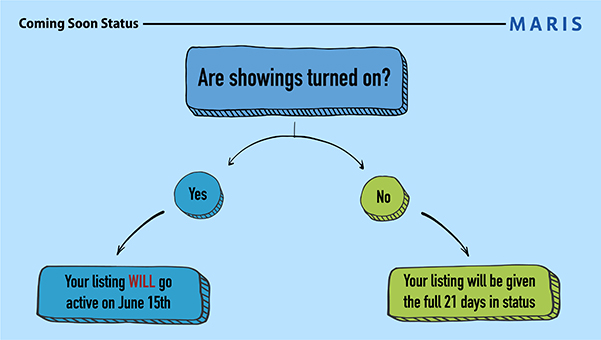 Pre-scheduling Showings While Listings are Still in Coming Soon Status:
As of June 15th, 2021, Coming Soon listings are no longer eligible to offer showings. However, agents will have the ability to schedule showings in ShowingTime on or after a listing's "Expected Active Date" (located in the 'General' tab of the listing input). It is important to note: Listings WILL automatically go active on the entered "Expected Active Date." Failure to enter an accurate date will result in the inability to schedule showings on a Coming Soon listing. Any participant and/or subscriber that shows or permits showings of properties that are in the Coming Soon status will be subject to MLS compliance.


Introduction of Coming Soon status in April of 2020:
For those in need of a little historical context, a little over a year ago, on April 28th, 2020, MARIS adopted NAR's Clear Cooperation Policy 8.0 (CCP). This adoption came with updates to our MARIS Rules & Regulations, affecting things like statuses and showings. In congruence with the changes presented by CCP, the Coming Soon status was reintroduced to the MLS as a quick and efficient way for MARIS members to comply with CCP, providing all professionals in the MARIS network with awareness of the listing — during which time the listing brokerage and home seller can work together to enact marketing strategies, get work completed on the property, have professional photography completed, etc.   
In other words, Coming Soon status indicates that the selling agent is preparing the listing for sale and for marketing as Active status. Coming Soon is not intended to give the listing agent an advantage in finding a buyer for the property to the detriment of cooperating agents or to circumvent the selling of the property on an open market. The intended use of this status is to provide a means for listing agents to notify other agents and buyers of properties that will be made fully available for marketing after preparations have been completed. While the property is in Coming Soon status, the seller and the listing broker may not promote or advertise the property in any manner other than as Coming Soon. As it currently stands, listings in Coming Soon status are showable at the discretion of the broker and client. This means either a) showings are available to all MARIS participants or b) no showings are allowed at this time – including for the listing broker.

Updated June 25, 2021: Open House Scheduling is Back!
Thank you SO much to those of you that reached out to us in the last couple of weeks with valuable feedback regarding the return of Coming Soon to a non-showable status. We heard your concerns and quickly activated our tech team in order to reinstate your ability to pre-schedule Open Houses on Coming Soon listings for on or after the Expected Active Date. It is imperative that this date is accurately entered as listings will automatically go Active in the early hours of the morning on the Expected Active Date.

Need support? Give us a call or an email!

In an effort to give all members with listings intended to be entered into Coming Soon status the appropriate amount of time to plan showings accordingly, we wanted to get this information to you as quickly as possible. As always, your support team is available to answer any and all questions you may have regarding the transition of Coming Soon status to a non-showable status. We're here to help Monday - Friday 8:30 AM - 5 PM and Saturday 9 AM - 1 PM. You can reach us by phone at 314.984.9111 or by email at support@marismls.com.