Today Remine released a number of platform enhancements and introduced some exciting options for commercial real estate (CRE) workflows.
One of the reasons why Remine has proven time and again to be a great partner is due to the fact that they are continuously improving their platform in response to MLS and agent feedback. Some of the enhancements included in this release include suggestions from MARIS members!
Remine is also stepping into the CRE space for the first time! This release includes a light commercial feature that will be available in Remine Pro at no additional cost, and the second is an integration with Moody's Analytics that is available for a monthly fee.
Below you'll find an overview of what to expect in this release. For a demo of the new features that come with your MARIS membership, sign up for a Remine class or webinar! (Please note that Moody's Analytics for CRE will not be available to demo during this webinar.)
Platform Enhancements
Upload to Cart
Agents will be able to upload a CSV file of properties directly to Carts and bypass the search process in Remine. Simply click the upload icon at the top of the Carts list to upload properties. All matched properties will automatically be added into a cart.


Search
New Search Options: Remine search will now expand to Places, People, APN, MLS #, Agent and Office.
Nationwide Search: A Nationwide Search checkbox is now available.
Pin Filters: You can also pin favorite filters to the filter bar — so you can access your frequently used filters more quickly and easily on desktop and mobile.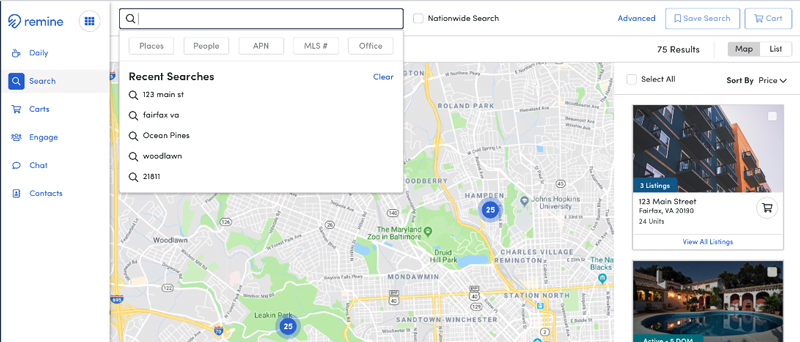 Get Me an Offer On/Off Toggle
Agents will now have the option to choose whether they want the "Get Me an Offer' title to be viewable to their clients. This allows agents more control and flexibility in how they conduct their business. Find this in your Profile settings.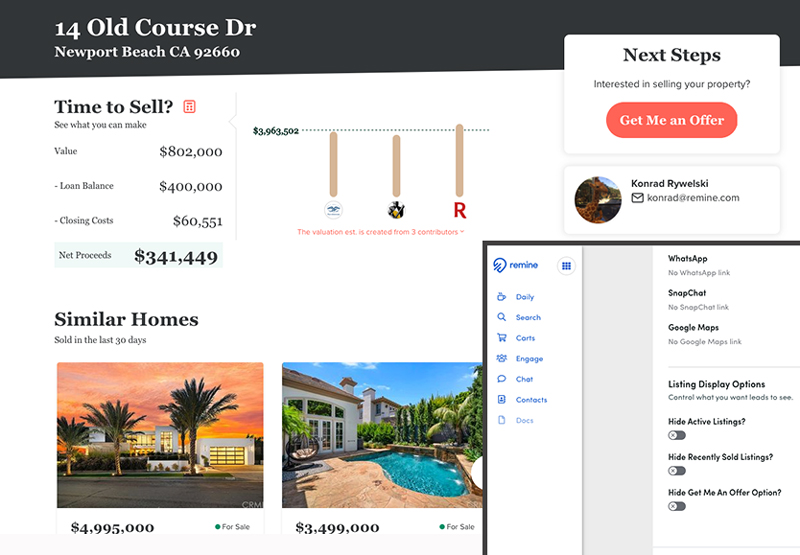 Mobile Default Cart
On the Remine mobile app, agents will be able to select a default cart. This will allow them to quickly add properties to their cart of choice without having to select a cart each time. If you want to make changes to your selection, tap the Cart icon and choose to cancel or change the default cart.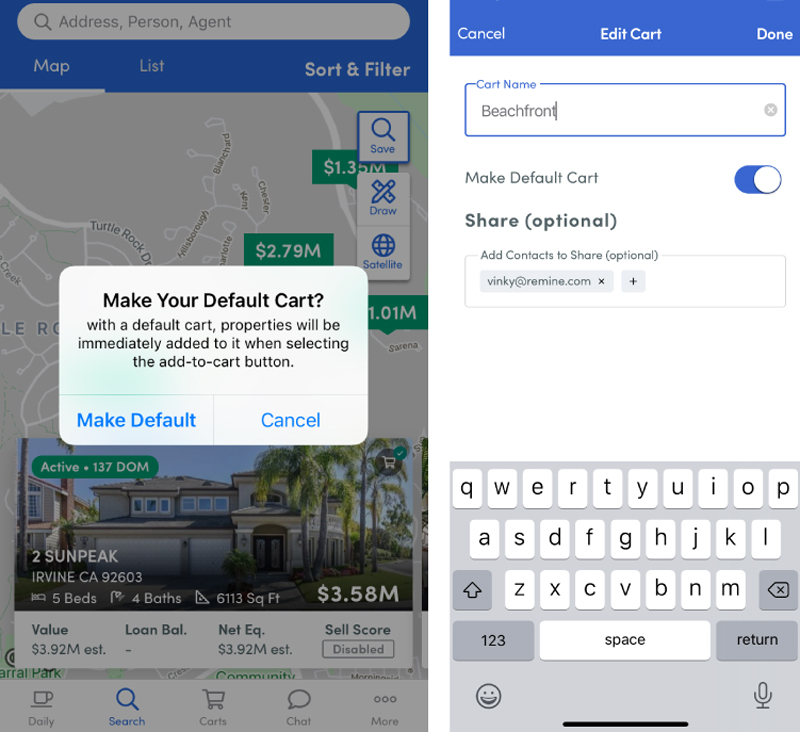 Mobile Contact Import
The feature to invite all contacts at one time on mobile has been removed. Sometimes accidents happen and agents may unintentionally invite hundreds of contacts. You will still have the capability to invite individual contacts.


Mobile Agent/Client View Toggle
In the past, agents had to create a client account in order to see what their clients actually see once they invite them to their Remine portal. The new agent/client switch eliminates the need to do this. Agents can now switch between agent or client view with just a click of a button. Just navigate to Settings and select 'Switch to agent account' or 'Switch to consumer account', depending on which view you are currently in.


Units List View
Agents will have the flexibility to choose whether they want to see units in a building via a property card or table list view. From the list view, agents will be able to export the list or add units to a cart.


Flood Zone
Remine has made Flood Zone maps easier to interpret by adding a map legend on the Property Details page and changing the Flood Zone colors to higher contrast colors (orange and red). Labels will also be available for Low/Medium Flood Zone Risks (500+ year recurrence) and High Flood Zone Risk (100-year recurrence).


New CRE Features
As mentioned earlier, there will be some commercial features available in Remine Pro at no additional cost, and the second is an integration with Moody's Analytics that will be available for individual purchase.
Included With Your Remine Pro Access
Residential/Commercial Toggle: Switch between residential and commercial filters at the top of the window to gain access to 3 new CRE-specific filters: Type, Price, and Size.
Commercial Property Card & Property Details Page: Property card layout and property details page have been enhanced to tailor to commercial properties.


Moody's Analytics Integration Add-On
Moody's Analytics is known for their industry-leading research, data, software and professional services. That's why Remine has partnered with them to provide agents the option to utilize Moody's Analytics CRE data with the Remine Pro platform for an additional cost ($49/month).
Explore the key functions and features provided through the integration below.
Commercial Location Score (CLS) Map Layer
CLS is the new standard in property assessment — it scores every commercial parcel in the United States, enabling agents to consistently evaluate property desirability and suitability.


Moody's Analytics Data in Property Details
Moody's Analytics data will be available on the Property Details page for agents who have activated the integration.
Sales Trends: Compare sales volume and cap rates across markets and identify variations in performance across submarkets.

Market Trends: Get instant access to all markets and submarkets trends, including current and projected rents, vacancy rates, and inventory growth.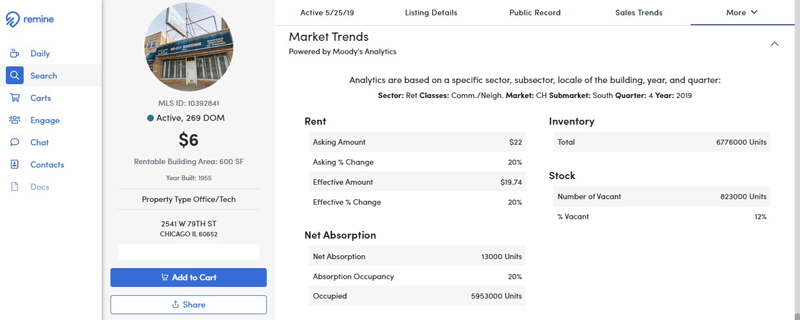 To purchase the Moody's Analytics integration, click on the the CLS map layer or activate via the integration add-on section within Settings. To learn more about Moody's Analytics visit cre.moodysanalytics.com.
Don't forget to sign up for a Remine class or webinar! (Please note that Moody's Analytics for CRE will not be available to demo during this webinar.)