We're excited to announce that the All-New Homesnap Pro is now LIVE for MARIS!
Homesnap has been conducting extensive research for the past three years on what technology real estate agents actually want, and now it's providing it all in one easy-to-use MARIS-supported consumer portal. This is Homesnap's biggest update yet!
Remember: Homesnap Pro is included with your MARIS membership. You must be logged into your Homesnap Pro account to access these agent-only features.
New Features
With the All-New Homesnap Pro, members now have access to these new features:
Likelihood to List: Improve your prospecting with Homesnap's predictive algorithms! Use Homesnap's new Likelihood to List scores to identify the homes most likely to list in the next 12 months and see key factors that contribute to the Likelihood to List score under the property details.
Heatmaps: Use heatmaps to see color-coded parcels on the map for indicators such as Likelihood to List, MLS Status, Last List Date, Ownership Time and more. (You'll need to be in the 'All Homes' view to see these new options.)
New Filters: Three new filters are currently available with this update (Square Footage, Lot Size and Year Built), but more will be available within the next couple of months!
Homeowner Profiles: You now have free access to homeowner contact information, so you can instantly reach out to homeowners by phone or email.
Improved Map Interface: The map now shows full neighborhood activity at glance, such as off-market properties, property lines and other properties that match your filters.
Property History: Get a comprehensive view of MLS, mortgage, tax and deed history for every home in an updated format for agents.
Improved Building Pages: The new building pages allow you to search for unit numbers in a building and browse all units by current market status.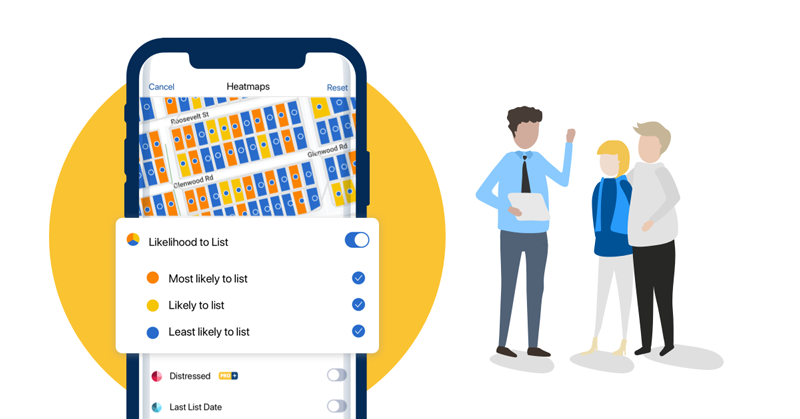 Seamlessly collaborate with clients
Make the homebuying process a harmonic one. Invite your buyers onto Homesnap so you can exchange in-app messages and get alerts when they favorite properties. Homesnap is like a safe haven for your clients, because they can get the same search experience as sites like Zillow and Redfin, without seeing any third-party advertising. Instead, they just get a seamless search experience powered directly by MARIS.
If you don't have Homesnap yet, visit our Product page to get access. And don't forget to sign up for our All-New Homesnap webinar on February 11 or class on February 26 to learn more!

Did you know? The Broker Public Portal (BPP) with Homesnap is the only online real estate platform that plays 100 percent by the Fair Display Guidelines. Learn more about Fair Display.