Homesnap's Listing Management Center makes it easy to promote listings and engage with your clients—all in one place!
We know how important it is for our members to be able to promote their listings and communicate with clients while on-the-go. Homesnap has streamlined these activities for you by introducing a personalized Listing Management Center. This feature is now available on iOS, Android and desktop.
How to Access Your Listings
You can access the Listing Management Center from your User Profile. To access your Profile, click on the "Me" icon in the menu bar, then click "My Listings" to view all your listings.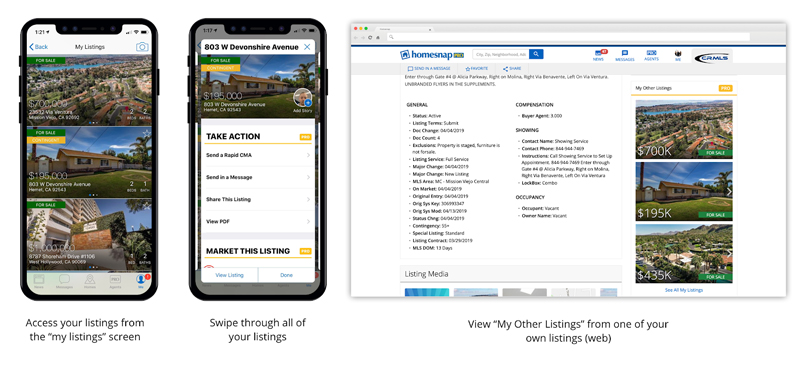 Here are some key features of the Listing Management Center:
Promote Your Listing
Market This Listing: Use paid advertising on networks such as Google, Facebook and Instagram for your multi-channel marketing campaigns (you can also view marketing reports and share them with your sellers)
Film Homesnap Stories: Bring your listing to life by creating engaging video content
Share Your Listing: Share your listing with your network
Engage With Your Clients
Follow Up: Follow up with potential buys with recent messages
Rapid CMA: Provide your client with a CMA to show neighborhood comparables
To learn more about Homesnap, visit the product page, browse our Homesnap videos or register for one of our upcoming classes or webinars.