In an overcrowded real estate tech market, that's teeming with gap apps and vapor-ware, Remine is the 'scrappy kid' on a mission to solve legit REALTOR® frustrations.
[Enter awesome backstory] Remine was founded in 2016 by Jonathan Spinetto, Leo Pareja, and Mark Schacknies — former real estate competitors who shared a common frustration. As successful agents they were tired of logging into 10+ applications to piecemeal data points that were crucial to the real estate transaction.
"We built Remine purely out of frustration. As a practitioner, the solutions I needed were not available. I wanted to be able to log into one place, click on one thing, and get actionable intelligence. I needed something to help me be faster and more efficient when working with a family who is trying to get into a home," said Jonathan Spinetto, COO of Remine.
Channeling frustrations into actions, Jonathan, Leo and Mark launched Remine in the fall of 2017. The software quickly gained industry adoption. Understanding the market need, Remine recently pivoted their focus towards developing a modern MLS platform. Within three years the tenacious company has managed to inspire a technical revolution to help streamline the REALTOR® workflow.
In an industry built on relationships, who you form partnerships with is important.
It's no secret, the people you choose to form business relations with can have a substantial impact on your success. This is why we choose our business partners carefully and align ourselves with like-minded people.
To us, Remine is more than a vendor and more than a technology company. Like us, they are real, relatable people with similar goals. They are a group of people who listen, and work with us to enable the needs of our members.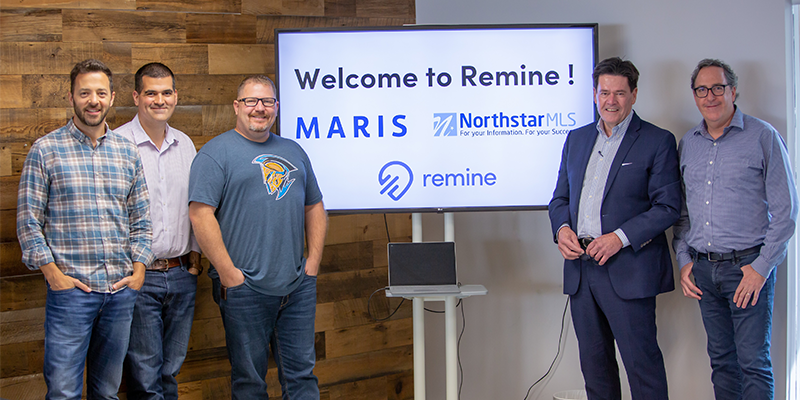 MARIS introduced Remine's Starter plan as a member benefit in early 2018, and recently announced the decision to provide Remine Pro as a MARIS member benefit, an upgrade valued at $199/mo. MARIS members will be upgraded effective November 1, 2019.
Remine Pro provides all of the essential MLS functions that REALTORS® need to do business — outside of listing add/edit. Remine is known for its sleek Client Engage feature, easy search, CMAs, mobile design, public record data, and robust tracking features.
MARIS plans to implement a mobile add/edit solution in 2020, which will provide members with the option to use Remine or Matrix as their MLS front end.