What are my Safety Resources?
Updated: 09/30/2021
As a MARIS member, there are a plethora of safety resources available to you. It's possible — and even likely — that many of you don't think of your job as REALTORS® as being dangerous. In fact, we hope that you don't think of it that way; but when it comes to working out in the field, we want you to be constantly aware of the safety measures and precautions that should be taken to avoid any sort of brush with danger. Not only does your MARIS membership come with benefits that provide you with safety tools and tips, but as a REALTOR®, you have even more resources available to you through the National Association of REALTORS®.
Bob Madewell's Story:
Your safety is and always will be our number one priority above all else, and it's important to be aware that no one is exempt from the possibility of illness or danger. That's one thing our friend Bob Madwell wishes he would have considered before he had his own run-in with danger. We invited him to share his story with us so that maybe his experience could help save a few lives. Watch the video below:
Safety Timer Applications:
Bob's experience isn't unique. There are other REALTORS® that have experienced similar crimes while on the job, and while most agents value the safety resources they're aware of, according to NAR's 2020 safety report, 65% of REALTORS® said that they weren't aware of the REALTOR® Safety Program. This points to a larger issue in which a general lack awareness of the resources our members already available to them may not be utilized to their fullest potential. As mentioned in the video, there are several applications included in you membership that provide safety timers in-app, such as ShowingTime, Homesnap, and Remine. We know that it can be time consuming to weigh the features of all of the programs at your disposal, so we've done so for you in the chart below. Click on the image to enlarge, or click HERE to download a PDF of the image to keep or to share with your fellow agents.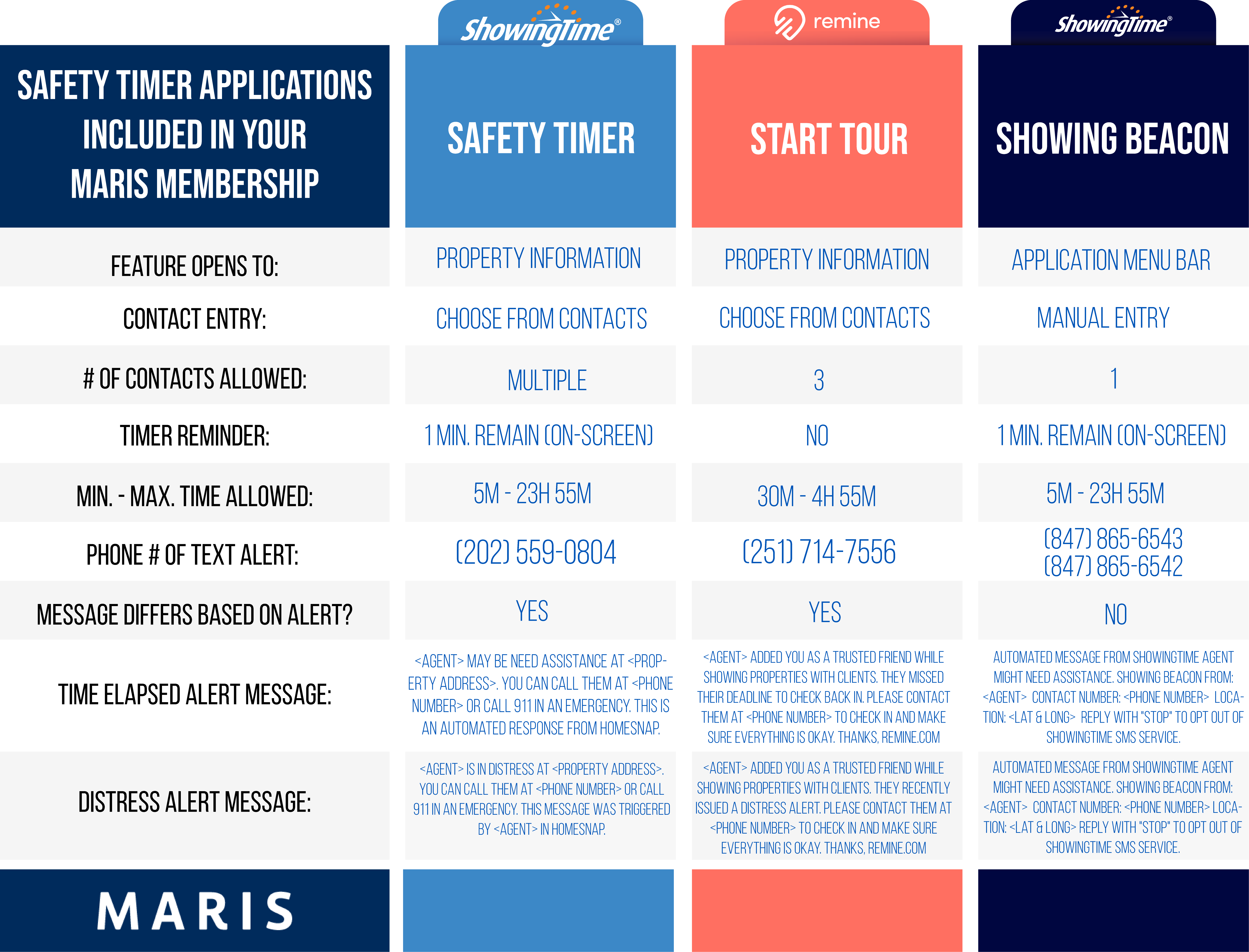 NAR Resource Page:
As mentioned earlier, The National Association of REALTORS® has a regularly updated resource page dedicated to safety on the job. With dozens of informative links, training videos, news articles, resources for personal protection, and more, we highly recommend bookmarking this page for quick access. In addition to resources and information, there's also a place to report an incident through the NAR should you need to. As always, if you find yourself in a state of emergency, call 9-1-1. Otherwise, know that you can report REALTOR® safety related issues directly to NAR by way of this form or to MARIS by calling 314.984.9111.
No One Knows Better than You:
When it comes to REALTOR® safety, there's no one that can relate more to your experiences than your fellow agents, brokers, appraisers, and members. In last month's issue of the MARIS monthly newsletter, we asked for member feedback about safety tips and tricks. We received quite a few tips, which you can read below or download by clicking HERE.

Have office procedures in place to record clients
Use one of the several safety timer applications available through your MARIS membership, displayed in the image above.
Agree on an office distress code
Create a voice distress code, a secret word or phrase that is not commonly used but can be worked into any conversation for cases where you feel that you are in danger. Use this if the person you are with can overhear the conversation but you don't want to alarm them. Example: "Hi, this is Jennifer. I'm with Mr. Henderson at the Elm Street listing. Could you email me the Blue File?"
Plan ahead with escape routes
Upon entering an open house property for the first time, check each room, and determine at least two "escape" routes. Make sure all deadbolt locks are unlocked for easy access to the outside.
Indicate you are not alone
If you encounter an individual while working late or alone in your office, indicate to that person that you are not alone. Say something like, "Let me check with my supervisor to see whether she's able to see you now."
Have a lifeline, look engaged
If you find yourself to be the last one in an open house and your car is not in the immediate vicinity of the venue, then make a phone call as you walk. Assailants will be less willing to attack if you are in mid conversation with another person. Give your best friend a call; they would love to hear about your day.
Rely on good neighbors
There is always that one neighbor that watches all the activity on the street. Inform a neighbor that you will be hosting an open house, and ask if he or she would keep an eye and ear open for anything out of the ordinary.
Don't get blocked-in
When showing property or meeting someone, park your car in front of the property rather than in the driveway. You will avoid having your car blocked in, you'll have an easier time escaping in your vehicle, and you will attract lots of attention running and screaming to your car at the curb area.