Social distancing rules and regulations set forth by state and local governments have made it difficult for agents to offer in-person showings and open houses. Knowing that this is a fundamental part of your business, MARIS wants to make sure you are fully equipped with live streaming options.

In response to the need for alternative open house solutions, Remine has launched its newest user capability, "Live Open House." This new feature provides you with multiple options for showing your properties, including link sharing and live streaming functionality. Please note that if you are accessing Remine through the mobile application that you may need to run an update in order to see these new features, which you can do by searching the application in your phone's app store.
In order to keep you as up-to-date and informed as possible about the new Live Open House feature, we will be hosting a webinar this Friday, April 17th at 11:00 AM CST. For this webinar, we will be welcoming Remine COO, Jonathan Spinetto, to host a full walkthrough of the new updates to the Remine application specifically for MARIS members. We are currently accepting registrations for this webinar, which you can access HERE. MARIS will be scheduling another webinar with Remine in the near future demonstrating this feature. Check back here for further updates!

Update:

Due to the overwhelming response to the webinar hosted this past Friday, April 17th, Remine's Jonathan Spinetto will be hosting a second webinar, this Friday, April 24th, at 10:00 AM CST. This will be yet another opportunity to learn more about the newest Remine functionality, Live Open House, but it is also an opportunity to get some of the most recent updates on the Remine application as a whole. Though the last webinar had a maximum capacity of 100 registrants, this next webinar will be open to as many as 3,000 attendees and is open to MARIS membership only. Those interested in attending can register HERE. Please feel free to join even if you already attended the first webinar. This will be a good opportunity to hear even more news from Remine and to get another opportunity to ask questions regarding the Live Open House feature. The video below is a recording from the April 17th webinar that we have made available for those who could not be available for either webinar or wish to watch the walkthrough at their own pace.
Within the Live Open House platform, you now have access to "Remine Live," a pro-only, in-app live streaming feature crafted specifically for showings and open houses. This new feature gives agents the ability to schedule open houses virtually for up to 30 minutes on any given listing, and buyers can attend these live streamed open houses from Remine's client view. Using this capability, buyers can join you as you tour the property in real-time.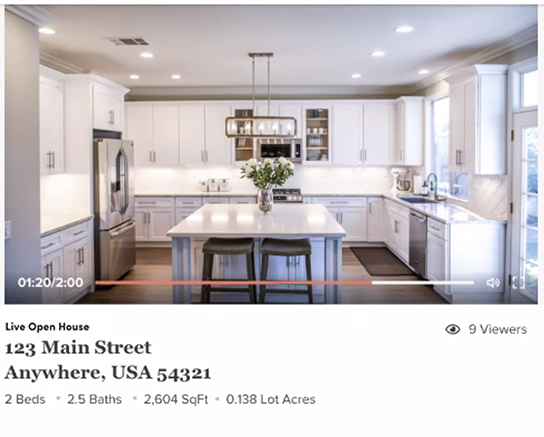 This feature is fully integrated into the Remine application so that you don't have to leave the platform to host your open house. Through your membership with MARIS, you already have access to all of Remine's pro features, including Remine Live, which can be viewed using a desktop, tablet, or mobile device (as shown in the desktop and mobile images below).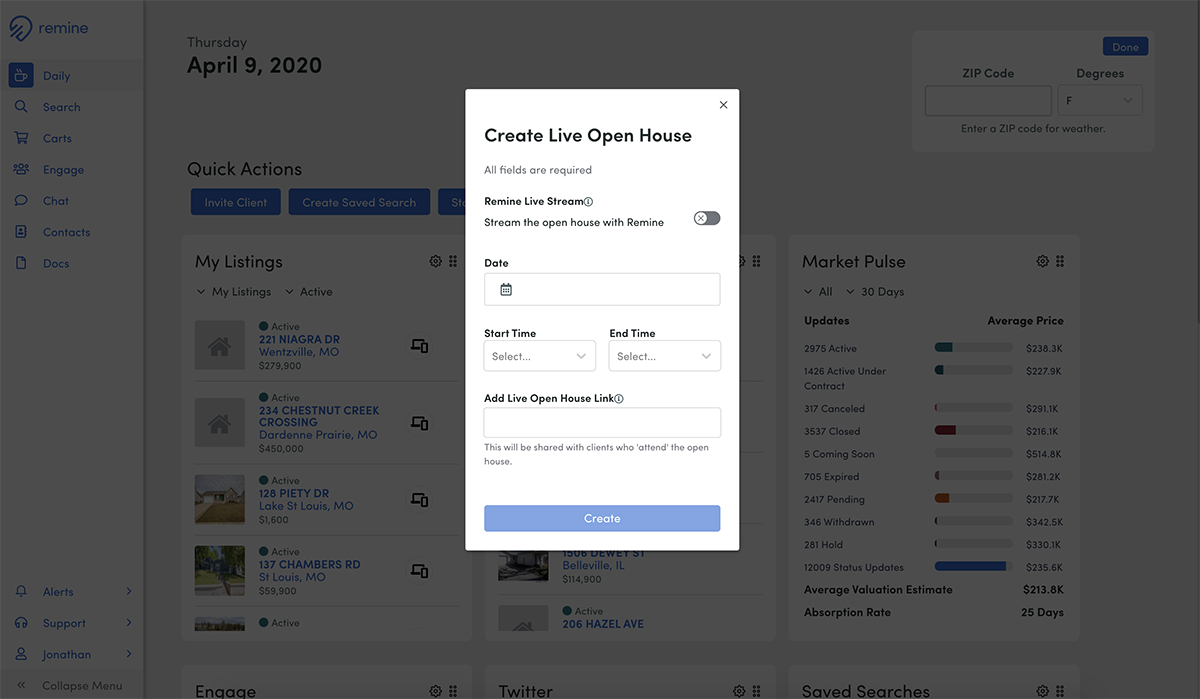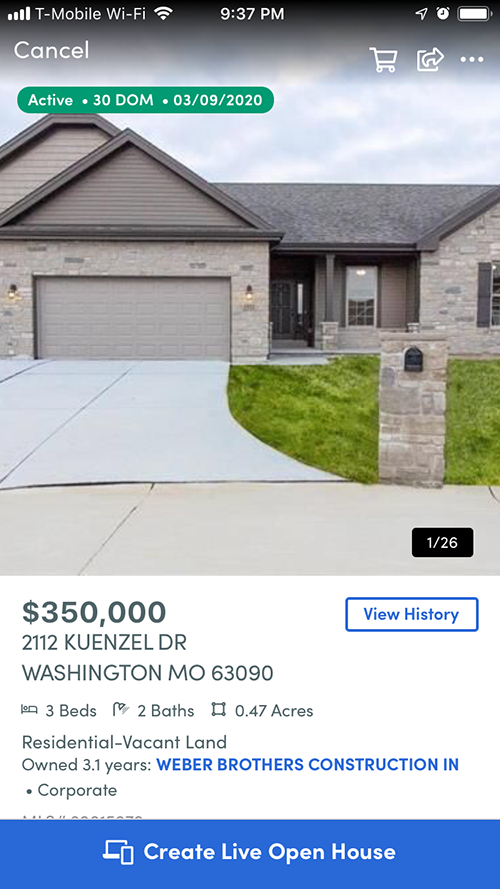 The video below demonstrates the scheduling feature within Remine Live. This feature allows buyers to see the upcoming showings and open houses on your listings.


In addition to the Remine Live feature, virtual tour fields in your MATRIX listings are now available in Remine as well. Your unbranded MATRIX virtual tour images and videos will feed from MATRIX to Remine for sharing with clients and advertising on properties.

The removal of open house scheduling features is a difficult decision that MARIS has had to make, as have many other MLSs such as NWMLS and CRMLS. While these temporary measures are in place, MARIS will continue to support your business in every way possible by continuing to provide a place to upload virtual video tours and by offering you the resources and information necessary to access live streaming services like Remine's. For more information on how to use the MATRIX static video upload feature, check out our recent article on "Handling Business Disruption Due to Social Distancing."

Above all, we want you to know that we are taking precautions to ensure these live streams work through buyers' agents and that anyone viewing a live stream is represented by an agent. The only way buyers get access to the consumer side of Remine is through an agent relationship. With Remine Live, the only way to live stream will be through a Remine hosted solution, meaning that Facebook, Instagram, YouTube, and other solutions will not be available. This step should limit any concerns with branding and service promotions. Please regularly check back on our "Real Time MARIS Updates Surrounding Covid-19" page for constant updates, and subscribe to our blog.