Ah, listing statuses, there are few topics within Real Estate as illustrious and yet complex. As a relative 'newbie' to the Real Estate industry this was one of the first big topical debates that I encountered. And I couldn't help but sympathize with any new agent or broker wading through the do's, don'ts and nuances of how to label a listing.
As a leading MLS we diligently track trends within the industry, study common issues within our market area and strive to stay on top of new developments and solutions. The topic of listing statuses is no exception.
Throughout the course of 2018 our staff and board of directors debated the educational challenges, usage, needs, concerns and historical origin of our listing statuses. We also engaged with hundreds of brokers and agents to gain their perspective. In the end, several things became predominantly clear.
There were valid reasons for how we arrived at having 13 statuses.
The 13 statuses were often used inconsistently and at times, members felt, incorrectly.
Having 13 jargony terms to convey if a listing was on or off the market was no longer efficient or effective.
As a result, MARIS decided to simplify our approach to listing statuses and better align ourselves with fields provided by the Real Estate Standards Organization.
Here's what you need to know about the upcoming status changes:
What's changing. 13 status will be consolidated into eight simplified statuses.
Statuses that will be retired: Coming soon, contingent with kickout, contingent short sale, option, sold, leased, contingent no kickout, temporarily off market.
What to expect. For technical reasons the status changes will occur in two phases.
Phase one. Retirement of the coming soon status. As of Dec 17, 2018 we will be eliminating the ability to add a coming soon listing status via Matrix. On that date, any listings currently within the system with the coming soon status will complete the two week cycle in the status.
Phase two. On Tuesday, January 29, 2019 the new, consolidated statuses will be implemented and the remaining statuses will be retired simultaneously.
Below are the simplified statuses that you will see in 2019
Active
Active Under Contract
Pending
Closed
Hold
Withdrawn
Expired
Canceled
What happens to listings that have old statuses?
When listing status changes go live in 2019, any listing with a retired status will be automatically changed to the correlating new status, as outlined below.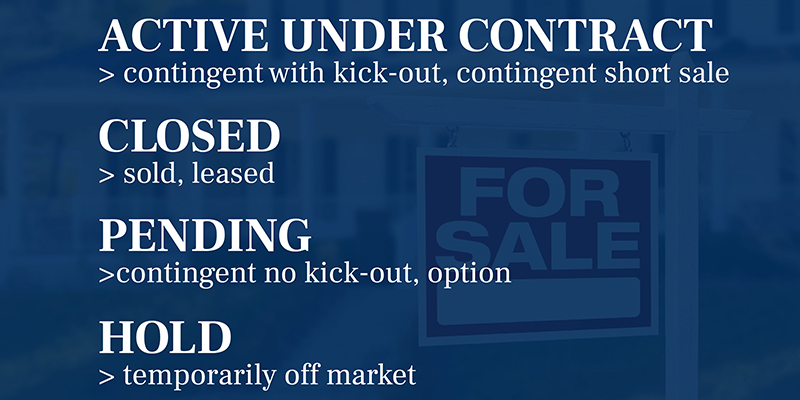 Statuses That Won't Change
Active, Withdrawn, Expired,and Canceled will remain the same.
New Status Definitions
We would like to encourage you to take a moment and review the new status definitions.
Below are supplementary support articles that elaborate on status definitions as well as top FAQs.